Our field service management app for construction crews will help you achieve high rates of construction through concerted efforts of your team. Find out what tools will assist you in coordinating your team most effectively.
Small and medium-sized businesses make up 94% of all commercial entities in the construction industry, and most of the time these companies provide cottage and cabin construction services. Given the highly competitive nature of the market, it is critical for companies to have an ace up their sleeve and offer customers tight construction deadlines and reasonable prices.
To be able to do that, you need well-oiled work processes in place at all stages, since private construction is a full cycle construction, which employs a whole variety of specialists. In our article we will share what tools you can use to manage your employees remotely, including tracking their location, and how the B2Field field service management software can help you adhere to deadlines and deliver excellence to your customers.
1. GPS tracker for monitoring work hours
With construction companies running multiple projects simultaneously, it is crucial for project managers to know what construction site an employee is working at and whether or not they're arriving and clocking off at their assigned hours. It might be quite challenging to manually control your specialists' movements, besides, such checks are often done over the phone, which rarely yields reliable results.
With B2Field, you no longer need to worry about location monitoring, since our app with a built-in GPS tracker will take care of it. Thanks to this feature, managers will be able to find out remotely where the employee is in real time, and see their travel history, which is especially relevant in regard to foremen who often drive off to purchase building materials, using personal or company cars.
Another handy tool for the construction business is geofencing. You can mark a construction site on the map and place it within a geofence. With its help you can remotely control the arrival at the construction site, exit from it and the working hours for each employee. B2Field program creates geofence reports, so you can quickly assess how disciplined the entire team is.
2. Mobile forms for performance quality control
Quick decision-making and constant performance quality control are crucial on a construction site. Managers and customers don't always have the opportunity to be present on spot, which is why businesses need to ensure seamless communication and tools that would allow for remote reporting on the work done.
"A simple example: some situation arises that leads to a delay in work. As a rule, the construction workers try to solve the problem on site by themselves for a while, and if they cannot solve it on their own, they report it to a higher level — the project manager. Who, in turn, also hopes to deal with the issue on their own. So another 2 weeks or so go by, and by the time the decision maker becomes aware of the problem, there is already a build-up of delays and deviations. All of this is a waste of resources. And the very problem here is communication,"  says head of Setl Group's Innovative Technologies Department.
Reports in B2Field can be roughly divided into two areas: control of working hours and quality control. The main tool for task completion control in B2Field are mobile forms. They allow employees to provide a detailed report on the provided services and attach photos or video files.
The main advantage of mobile forms is that you can choose a format that suits your team the most: for example, text reports only or forms with photos and a signature of the person responsible.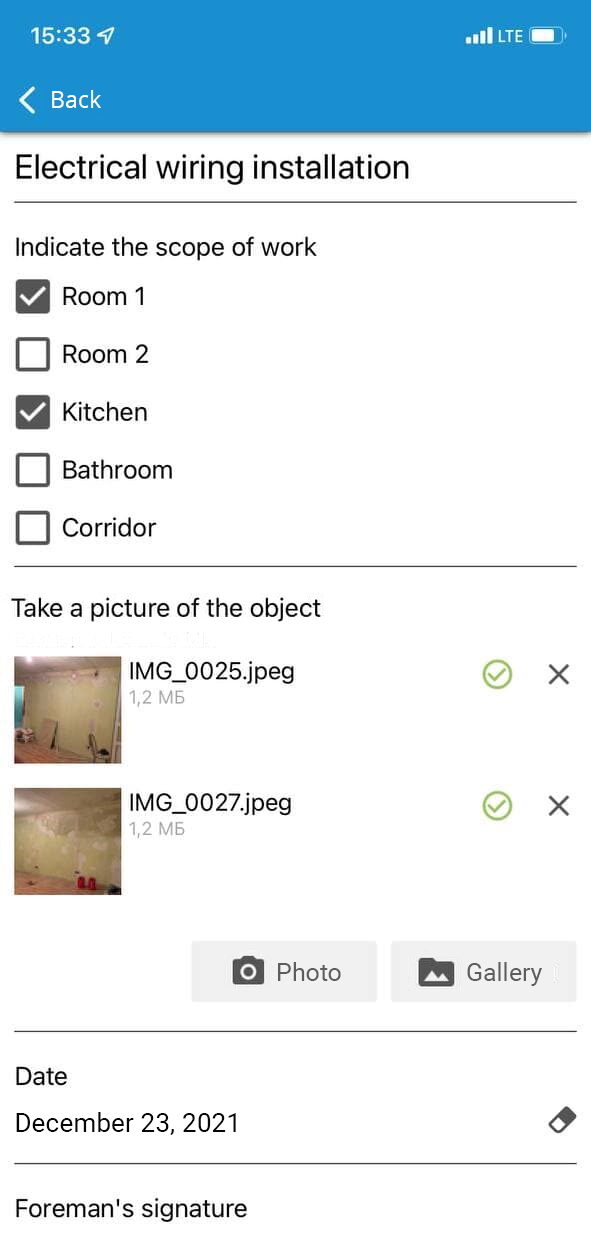 The mobile forms sent from the construction site will instantly reach the supervisor and will be available for viewing at any time. Forms are also great for reporting to your customer: they can be sent via email in a pdf format. For example, you can create a form to report on what has been done during the day, and at the end of the day the foreman will forward it, attaching photos and video files.
3. Reports for productivity monitoring
Construction companies use analytics in different ways: to get financial information, to foresee possible risks or to identify factors that affect profits. Apart from global processes, construction companies also need to track the progress on site: how long certain stages take or whether the construction crew members meet the deadlines.
In B2Field you can assess your staff's work remotely, based on various parameters: the number of completed tasks for the day, time spent on site, late arrivals, etc. A visual picture of the team's day pops up as soon as you log in to the web interface, so you can immediately assess how productive their day has been. A dashboard will provide statistics on completed tasks, indicate mileage, and display a rating of team members based on the amount of work they've performed.
In B2Field you can also generate reports to help you keep track of:
task progress,
filled out mobile forms,
geofence entry/exit,
trips made.
B2Field is an ultimate solution for construction businesses
Use B2Field tools to remotely manage your field workforce. The field service management software comes with all the features necessary to be in full control of what's going on at the construction site.
Task assignment. The program makes it easy to assign a task to an employee, which they receive via a push-notification in the mobile app.
Work schedule. With the task planner in B2Field, you can easily draw up a schedule for the team and adjust it as needed.
Built-in chat. The chat is available in the mobile app and is convenient to use unlike messengers that are not exclusively meant for work-related correspondence.