Have you ever been in a situation where an employee says they were at a client's, when in reality they were running personal errands instead? A lot of field team managers are familiar with the issue of monitoring field employees. And we might just have a perfect solution for you: a GPS tracker in our mobile app.
In this article, we will talk about staff location tracking with B2Field. Read and find out all about:
employees' location tracking,
specialists' geolocation in real time,
trip history, including mileage and detailed routes,
quick search for a specialist for urgent jobs.
Staff location tracking solution by B2Field
It's easy to track staff location with the B2Field service: all you need to do is install a mobile app on a smartphone or tablet. You can use it to:
make sure each specialist performs their duties diligently,
eliminate side gigs or improper use of company vehicles,
keep track of the team members' workload and allocate resources accordingly.
B2Field app allows you to track the geolocation of employees on foot as well as those who get around by car or public transport. Moreover, the service can track the location inside buildings and on the road with precision down to a few meters. All of this is possible thanks to the geolocation systems that every modern smartphone or tablet comes with. B2Field uses the whole range of location tracking methods, i.e. GPS, Wi-Fi, cellular signals and Bluetooth.
You can check your employee's current location in the web service account or via the mobile app so you can stay updated anytime, anywhere.
Staff location in real time
Staff location monitoring in real time is an easy and effective way of control and a basic B2Field feature. Employees' geoposition is displayed on a map. So it only takes a couple of clicks to find out if the specialist is actually where they are supposed to be.
With real-time updates on employees' whereabouts, you'll receive up-to-date information on where your employee is and what direction they are headed, if they're on the move.
Trip history
Managers aren't always able to track an employee's location in real time. That is why B2Field stores a trip history so that you could check where the employee had been even after the fact. You will be able to check the employee's location at any given time or have a look at their route within a certain time period or for the whole day.
The tool will enable you to see a picture of a working day in the smallest detail. The service records the duration of each trip, provides data on mileage, vehicle speed and stops. More than that, you will learn about any deviations from the route and unscheduled stopovers.
Based on the trip history, you'll get a clear idea of how much time the employees spend on the road and understand if you need to adjust your workflows: for instance, reassign city areas among employees to reduce costs.
To sum up, let's single out the main advantages of the trip history feature:
checking the employee's location after the fact,
ruling out personal trips using company cars,
mileage calculation,
obtaining data for efficiency analysis.
Finding the nearest employee on the map
An additional feature available when tracking employees using GPS is to find a performer. For example, when the task needs to be done urgently or in a situation where you need  someone else to take over a current order. B2Field will help you find the closest specialist available on the map.
The service will display all employees nearest to the required location and with a work status "Available". Once you have selected an employee, you can assign a task to them, which will instantly pop up on their smartphone.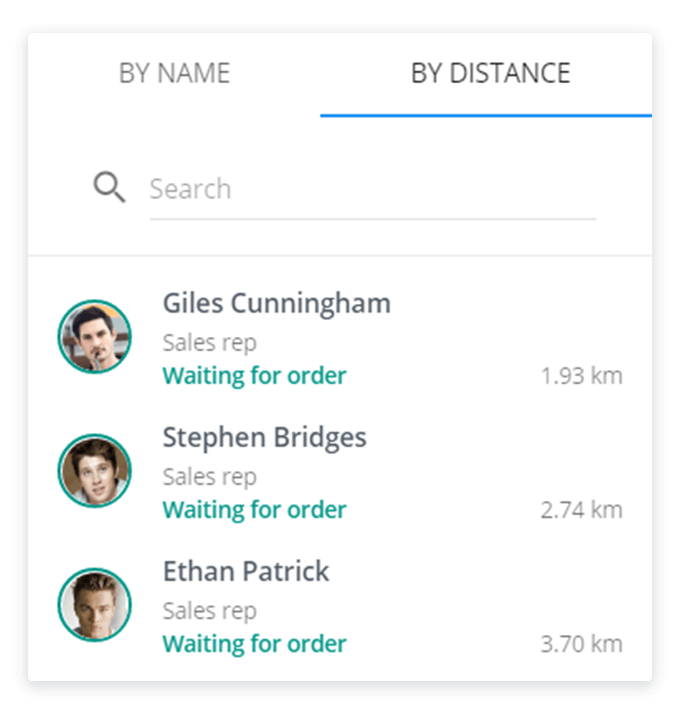 By using our tool, you will save time otherwise spent on calling specialists and figuring out their workload, so the employee will have more time to properly perform the task.
Field service technicians are the ones that  usually receive urgent orders. Find an employee that is closest to the client and assign a task to them. For the visit to be fruitful, attach the necessary documents to the task, such as equipment specifications. The specialist will receive the data on their smartphone and will be able to figure out what needs to be done much quicker.
Staff location as the basis for all the B2Field features
B2Field uses a comprehensive approach to manage field teams. Access to the current location, search for an employee for the job and trip history are the basic features of the field staff management service. Online monitoring helps with unscheduled checks and promotes better allocation of resources, and travel history will come in handy when resolving contentious situations, for example, if sales volume drops but the employee claims to have been visiting all the clients regularly.
In addition to staff location tracking, B2Field's main features are also related to geopositioning. That is, the employee can only complete a task at the site envisaged by the manager, which means they cannot start and complete the task unless they are physically present on site. You can learn more about all the features connected with location tracking from our next articles.