Improved mobile workforce management starts with creating employee work schedules that are dynamic and easy to use. That's not to say that the Google Calendar app isn't an option. At B2Field, we simply believe that you can schedule your mobile workforce better and faster to save time and money.
Let's be honest: the Google Calendar app wasn't meant to be used as an employee scheduling app. That's not to say that you can't use it for those purposes, it's just that there are better options with dynamic features you can use to schedule and manage your mobile workforce.
If your goal is to create better, more dynamic work schedules faster, all while eliminating painful, manual processes, then this is the resource for you.
Read on to learn why the Google Calendar app isn't the optimal solution for creating employee schedules and learn how you can adopt an easy to use, dynamic solution that can save you time and money.
The Google Calendar app and the issue with access
Unless your company has a Google account, using the Google Calendar app to schedule employee shifts is difficult. Everyone in the company has to have a Google account, and in the mobile workforce management, last mile delivery, field sales and field service industries, it's very unlikely that employees will have access to a company Google account.
Additionally, the Google Calendar app doesn't have employee time tracking so even if every employee in your company did have a Gmail account it would be incredibly difficult and time consuming to manage all the necessary tasks, changes, approvals, communications and other tedious tasks that come after setting the schedule.
Also, on mobile, the Google Calendar app interface can look more and more difficult to navigate depending on how many employees you have. Is that a great solution for a company that's trying to grow that must account for changing operations, and a growing team that relies on multitasking? We don't think so.
With B2Field, it doesn't matter what industry you work in or how many employees your SMB has. It's easy to schedule your mobile workforce based on their availability, proximity, past performance data and more. All you have to do is assign tasks, which they complete and confirm, and you can communicate with them during their shift via SMS, chat, and more.
All of it takes place in the B2Field app on mobile or desktop.
Shouldn't planning shifts be easy?
As mentioned above, using the Google Calendar app to create work schedules for your employees is possible, but it requires a lot of manual work, which translates into time and money for your business.
With the Google Calendar app, you have to ensure that each of your employees has a separate calendar (or at least a separate Google profile), which you have to create manually, especially if you don't want to pay for user accounts.
Then you have to go through the tedious process of selecting a new day, creating a new time block as a separate event for each employee, and then assigning each block to an employee by adding their email address.
After that, each employee has to confirm to accept the shift and if they don't accept  you have to make even more changes using manual processes to get the schedule set. Sounds like a lot, right? Yeah.
One of the most important things technologies can provide for a business is to save them time and money by freeing up resources that are traditionally tied down on repeat, mundane manual tasks.
B2Field was created for field employee shift scheduling and much much more! B2Field is easy to use and accessible. Not only can you create shifts based on employee availability, but you can view and manage every employee from one place.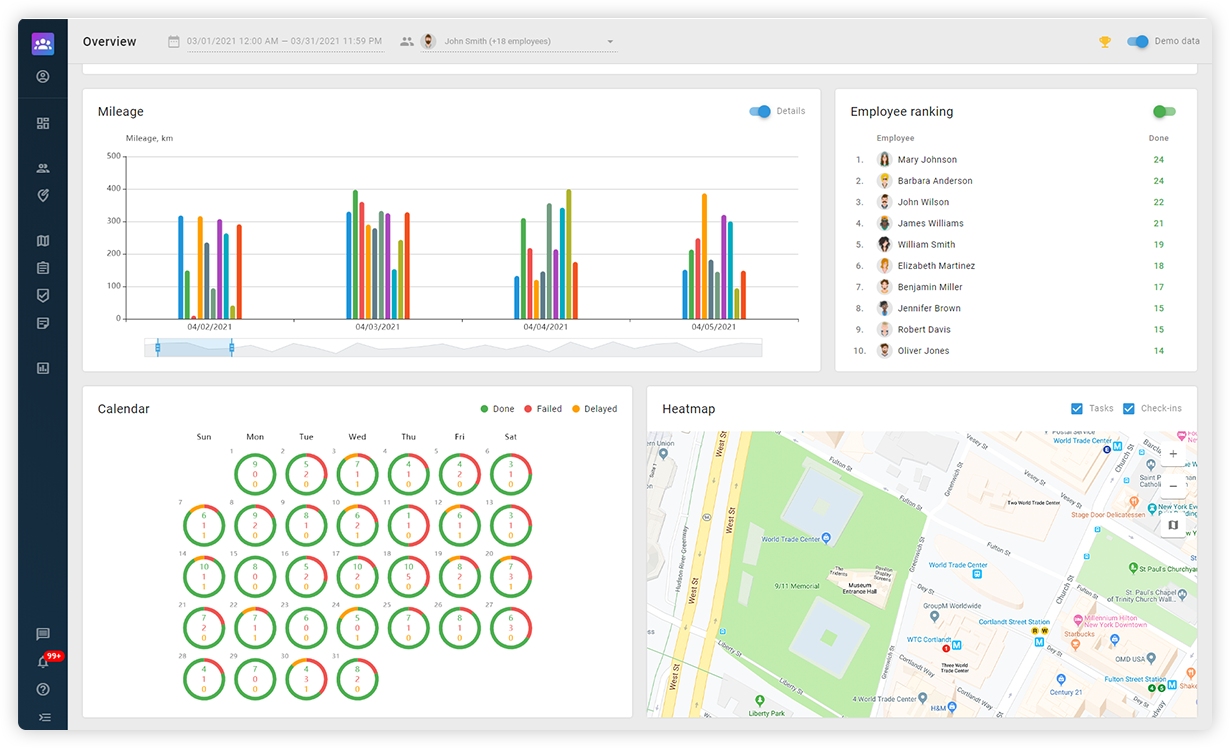 The live map view shows you the location of each employee in real-time which you can use to plan the quickest and most efficient routes to save money on gas and improve field efficiency, enabling your employees to visit more clients and locations in less time.
You can set checklists and forms for employees to check off and confirm jobs and/or tasks. Employees can send proof of work back to the office instantly via photos, videos, file sharing, barcodes, and signatures. All the information is recorded for reporting and analysis so you can improve and grow your business based on fact-based decision making.
Tasks and notes features
The Google Calendar app for employee scheduling doesn't include the option to add tasks or notes. It's mainly used to create events, so naturally those functionalities aren't available.
The Google Calendar app includes a descriptions section for meeting agendas and to include specific information for events, but it's not a reciprocal or interactive feature that mobile workforce management companies need to manage their mobile employees.
The descriptions section might be better than nothing, but it isn't quite as optimized for employee shift scheduling as B2Field, which also allows your employees to have all the information and resources they need to get the job done right at every job and location, every time.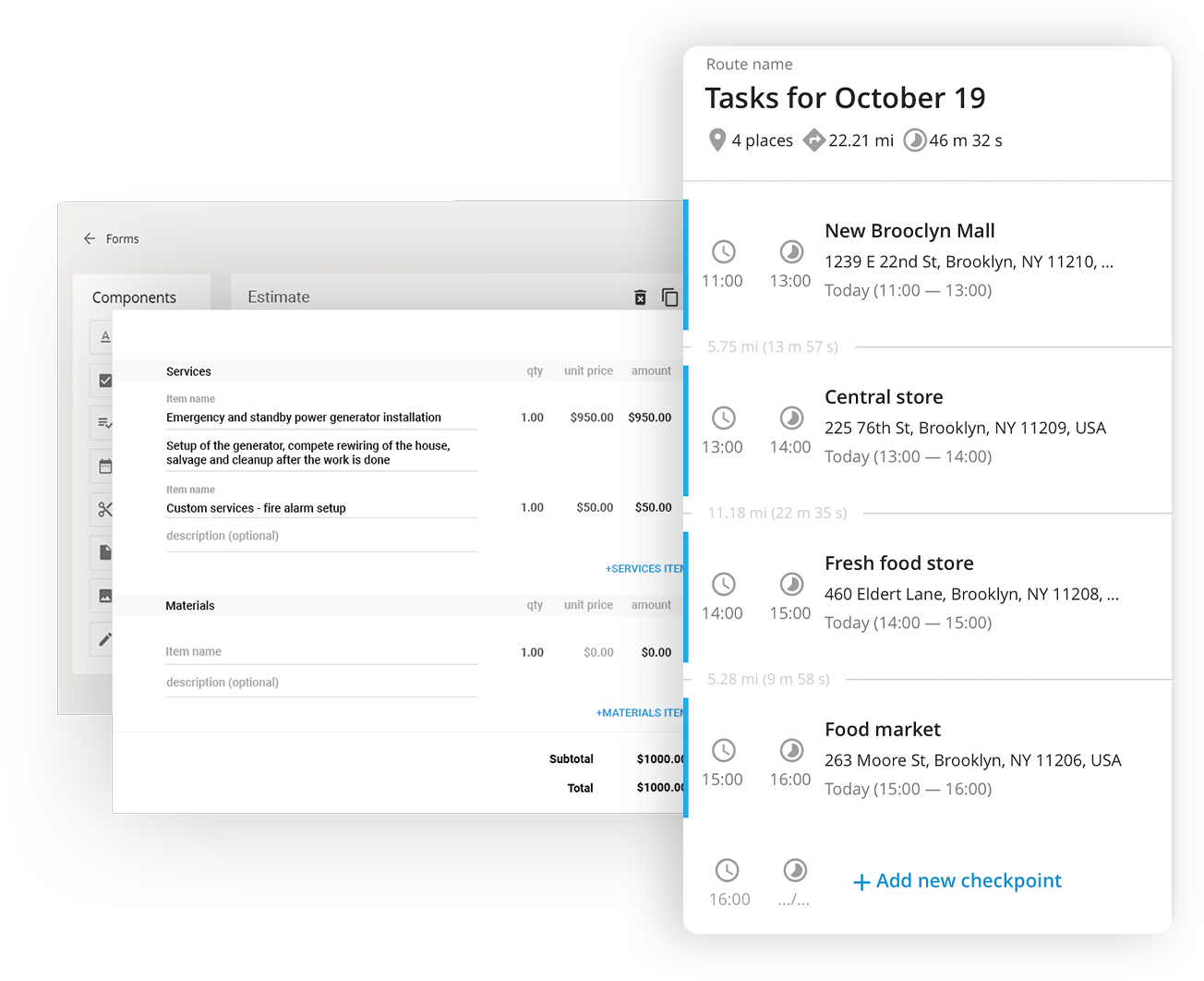 Enabling features such as checklists and forms, B2Field allows your business to ensure consistent 5-star quality customer service at every location.
All your employees have to do is check off tasks as they go, and all of the information is updated in the system in real-time. With mobile forms, your employees can send real-time field data back to the office, eliminating the need for time-consuming, inaccurate, and manually-processed paperwork.
As employees upload mobile form data, or check off tasks in the checklist, it can be viewed in real-time for accountability and reporting. Analyze the drill-down historical data at any point in time to view completion rates by employee.
Team communications
Another one of the main downsides to scheduling employee shifts with the Google Calendar app is the fact that team communication becomes disparate. You have to use separate systems, whether email, online messenger, phone, or text in order to reach your team.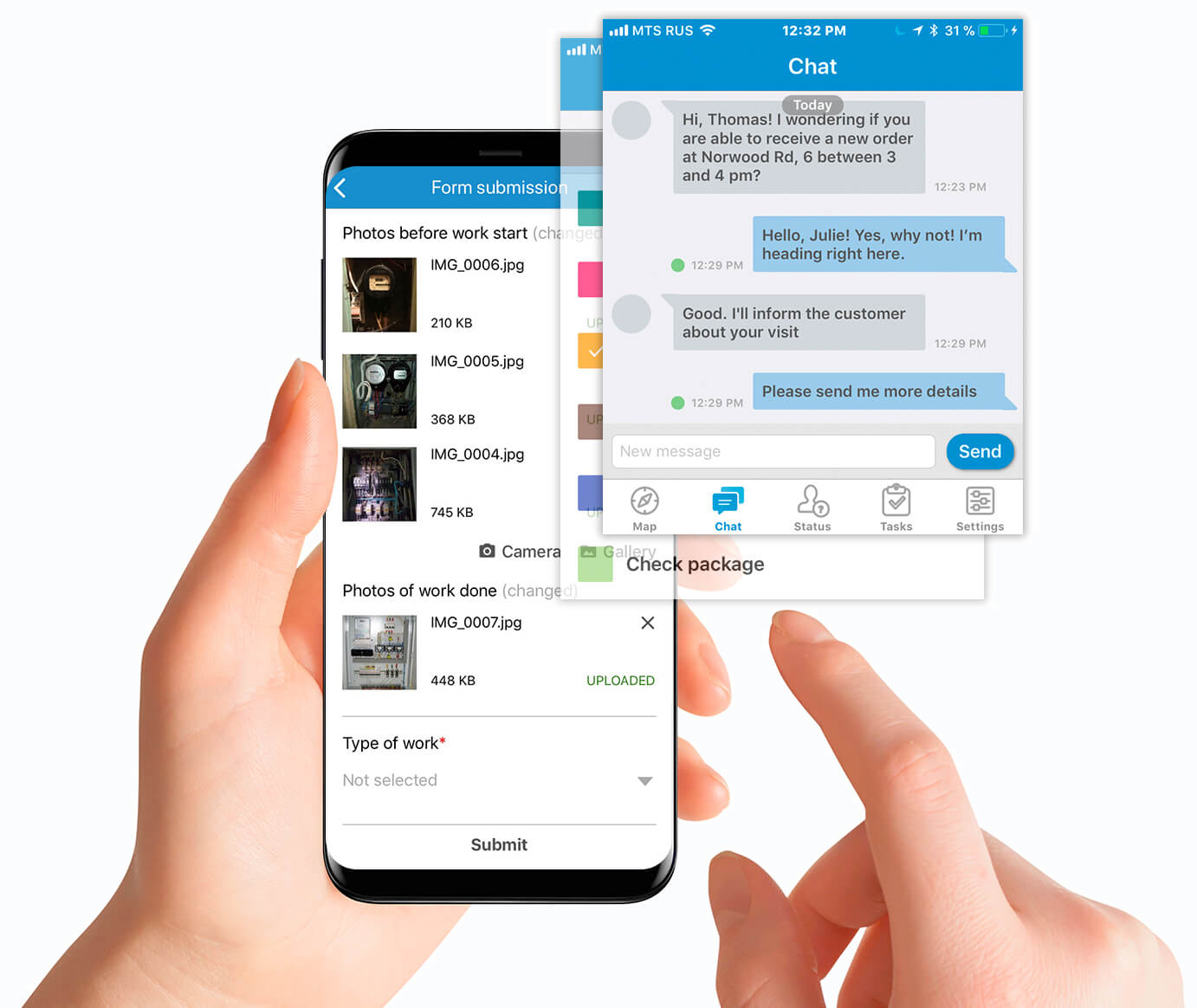 B2Field mobile workforce management software includes a built-in mobile communications tool. Whether you need to contact a specific employee, or your employee needs to reach the office, you can keep your teams connected through shared contact lists that enable phone calls, live chat, SMS, voice messages, and file transfer capabilities.
The team communications feature also allows your employees to create customized statuses so you always know when they're actively working, out to lunch, on a break, or off duty for the day.