Reviewing a sales rep's report is a daily task for a sales manager. Based on our experience with clients, we have selected the most popular and important reports. In this article, we will talk about what data you should include in your reports and share our recommendations from leading medium and large companies.
Sales managers conditionally divide reports into those that are important for efficiency analysis and analytics and those that are needed to monitor sales reps in their day-to-day work.
3 reports that are crucial in the long run
Retailers cite a wide variety of reports when it comes to managing sales reps. But almost all managers mention three reports they work with all the time: sales, receivables and active customer base.
The sales report reflects the current state of affairs and helps plan further work. It usually includes:
overall sales plan for the region;
plans for supervisors and sales reps;
sales dynamics of each representative;
"sold to date" figure;
forecast for the period: what volume will be sold, provided the dynamics are maintained.
For ease of use, we advise not to overload the report with information. Due to the large amount of data, it will take a long time to load and become less illustrative.
Tip: the order should be reflected in the report after it has left the warehouse. The retail outlet may cancel the order or refuse a part of it, so the profit data will be overstated.
The receivables report captures the available limit for post-payment, expected payment dates and information about receipt of funds. This information helps keep track of the company's financial balance and analyze interaction with clients.
To optimize the handling of accounts receivable we recommend to set it as an additional KPI — this way sales reps will be able to monitor it independently. Learn more about it in our article on KPIs for sales reps.
Active customer base report
The report on the active customer base is created for each sales rep to analyze how effectively they work with the clients: whether they close deals with new outlets, how actively they turn them into regular clients, and increase sales volumes. The report usually indicates: total revenue, regularity of orders, and participation in bonus programs.
Analysis of an active customer base helps:
Evaluate which clients are the most promising. Who buys the most, who brings the bulk of the revenue. Such clients can be offered special terms of cooperation or be accommodated if they need an installment payment.
Find out which bonus programs work best. Thanks to the report, you can analyze which special offers attract customers the most and focus on them.
Track the dynamics of new clients turning into regulars. If you attract a lot of clients, but they do not become regular ones, something must be wrong with your workflow. Based on this data, you can reconsider your approach to cooperation and develop conditions that would be more attractive to new customers.
Tip: each sales rep should have their own customer base, so that customers do not overlap. This way the joint work will be more efficient, because often times specialists build trusting relationships with their clients.
Daily reporting by sales reps
In addition to reports that are important in the long run, managers also monitor operational processes within the team on a daily basis. This is where daily visit reports and photo reports come in handy.
A sales rep's report on the work done is based on the plan the specialist has made for the day. We talked about this in more detail in our article on preparing sales reps and checklists for work.
The daily report includes the number of outlets visited per day, their names, and duration of visits. B2Field generates such reports automatically, so the employee doesn't have to waste time on it and the manager can be sure that the data is reliable.
If it is important for you to get data online or you want to check where the employee is right now, the «real time location» function is just what you need.
Photo reports from retail outlets
A photo report of the shelves helps to assess the quality of the display, check the availability of the top-range items and give recommendations on what can be improved.
Using the B2Field mobile app, an employee will send you all the necessary photos, which you will receive instantly without leaving the office. The photo report will be stored together with other information about the client, which means it won't get lost among hundreds of others, as it usually happens when using messengers.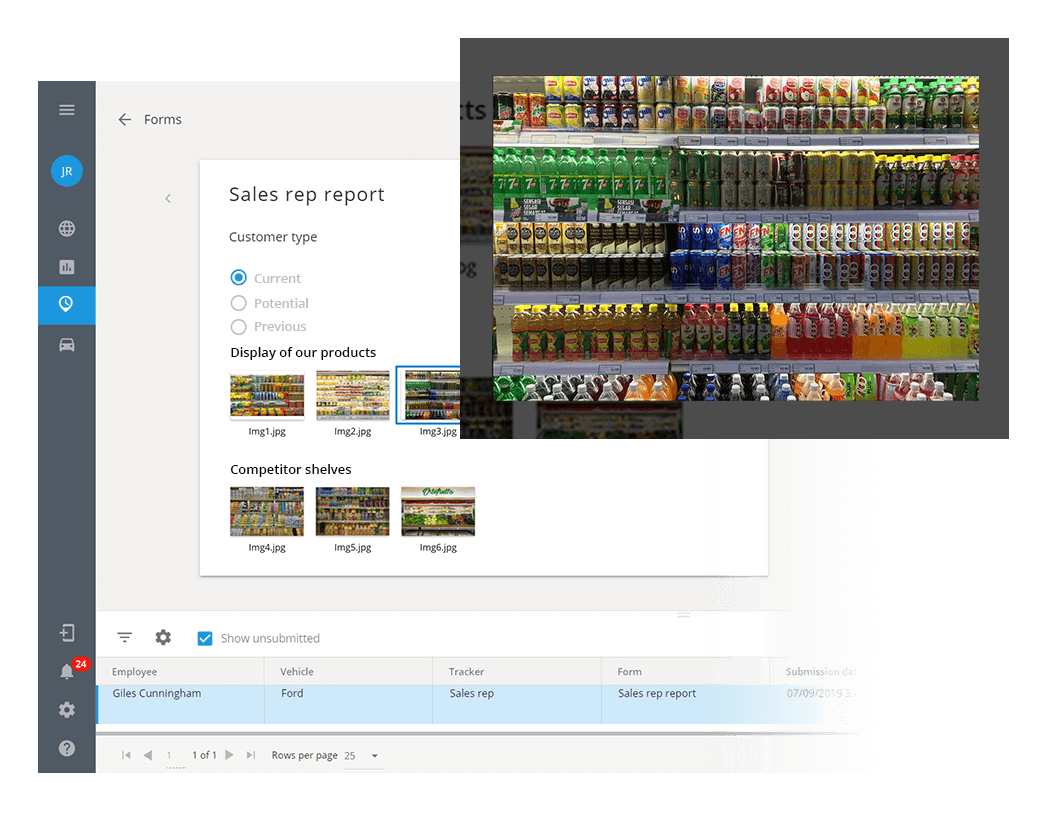 Another important advantage of using B2Field to send a photo report is that you can ban uploading images from the gallery. An employee won't be able to take several photos in advance to later use them in their future reports.
Reports on selected parameters
In B2Field you can select the parameters that you want to track: to do this, create a report for a given category. Some of the reports most popular with our clients include:
Select a specific employee or a group to create a report. You can also set the frequency of data export: once a week or once a month. The report is automatically generated on the day and time you choose. You can receive it in a way most convenient for you, for instance, in PDF or XLS, via e-mail or in your account.
Managing sales reps with B2Field
A well-designed reporting system will increase your sales department's performance. With the help of B2Field's automated analytics, you will be able to identify your team's strengths and find what is yet to be improved.