Construction industry employs a wide range of specialists: engineers, surveyors, technicians, and foremen; and our field service management solution for construction crews is a perfect way to efficiently interact with them. Each crew member is equally important at the site, since without even one of them delays may occur, which prove to be very costly for construction companies.
To efficiently coordinate the employees, lay out the road map for each team and obtain accurate and timely information about work processes, it seems reasonable to introduce special software. Today, let's break down what a field service management app actually is, and how it will help your construction crew every step of the way.
Construction management: the key is to streamline workflows and organize the staff
Failure to meet deadlines when commissioning sites upon completion is not uncommon: based on statistics, over 50% of all apartment complexes are handed over behind schedule. Clearly, the reasons for delays may vary, but one major factor is proper coordination of workers on site. Once a crew has a clear, step-by-step action plan that can be adjusted as needed, it eliminates force majeure issues related to on-site staff.
Next, let's discuss what other aspects are important when managing a construction crew.
Proper task setting
The manager of field employees that work at construction sites needs to assign tasks in a timely manner, taking into account qualifications of a given specialist and their permit to perform certain types of work. When managing a large-scale construction site, the ability to assign tasks remotely will increase on-site performance, as employees will have clear terms of reference at hand. Besides, such an approach enables managers to enter all the tasks assigned into the system, which promotes transparency of business processes.
Monitoring employees at a construction site
In addition to following up on task completion, it is essential to track workers' on-site presence and working hours. Numerous employees coming in late or being absent from the site during business hours cause considerable losses to the company. Of course, they are less damaging than choosing an unscrupulous supplier or subcontractor, but no employer would want to pay for their staff running personal errands or having endless smoke breaks. Especially if the absence of an employee means that rented equipment remains idle.
Progress reports
Since supervisors cannot always be physically present on site and, moreover, companies often hire subcontractors, documented records are needed that can be easily sent to the person in charge.
"We have implemented over 20 IT services in production, construction, picking and logistics, including robotization, logistics automation in order to eliminate downtime during installation, as well as conversion of paperwork into electronic form. As a result, we've managed to increase labor productivity by 49% at construction sites, and by 45% at factories," says Alexander Prygunkov, first vice president of PIK.
There are so many employees working at construction sites that it is unrealistic to monitor each one of them individually. To be in the know of how the workflow is actually going it might be a good idea to turn to automated reports. Learn about how these work in the construction management solution in the next section.
How construction management service will solve your challenges
B2Field is a service for companies whose employees spend most of their work time in the fields or on a construction site. B2Field is designed for medium and large businesses.
The program comes in a web version and as a mobile app. The first one is meant for managers and executives that directly supervise remote workers. Mobile app will be suitable for both managers and staff: for assigning and receiving tasks, tracking location, and submitting reports.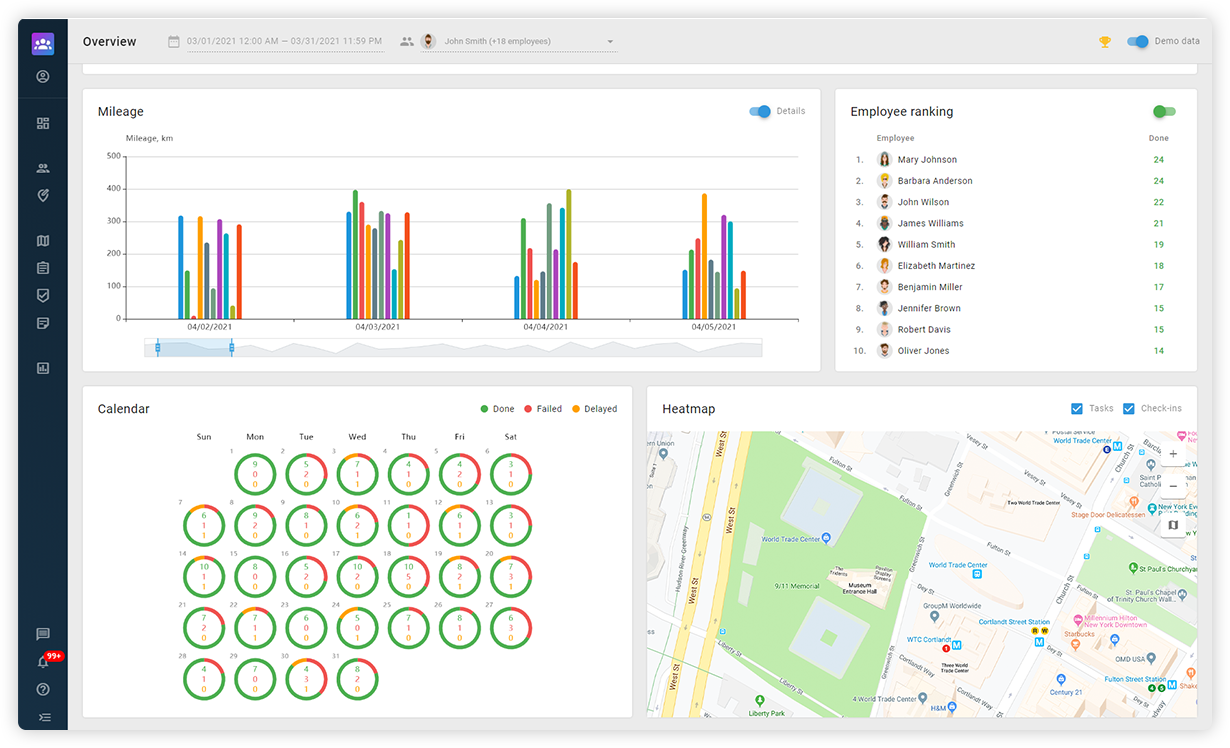 B2Field service web interface
B2Field is a subscription-based service, meaning that you don't have to waste time deploying software to start using it: once you pay and do a little mobile app setup, you can begin managing your construction site. Let us walk you through some tools you might find helpful in your work.
Clear work schedule with a task planner
The B2Field team has come up with a task planner to help you create a work schedule for the team. Based on a Gantt chart, it perfectly illustrates the construction schedule: starting and finishing points, duration of work completion. With the planner you can see who is performing the task, what progress has been made so far, and what steps are planned ahead.
The planner makes it easy to make adjustments on the go, for instance, move the task to another time or choose a different employee for the job. The activities of the entire crew are presented graphically, so in case one of them gets overwhelmed or, on the contrary, proves to be an underachiever, you will recognize it instantly.
Effortless task management
In B2Field, it takes just a few clicks to create a task. You can even input certain tags, that way you can take into account the employee's qualifications when assigning a task. They will be notified of a new assignment via the mobile app.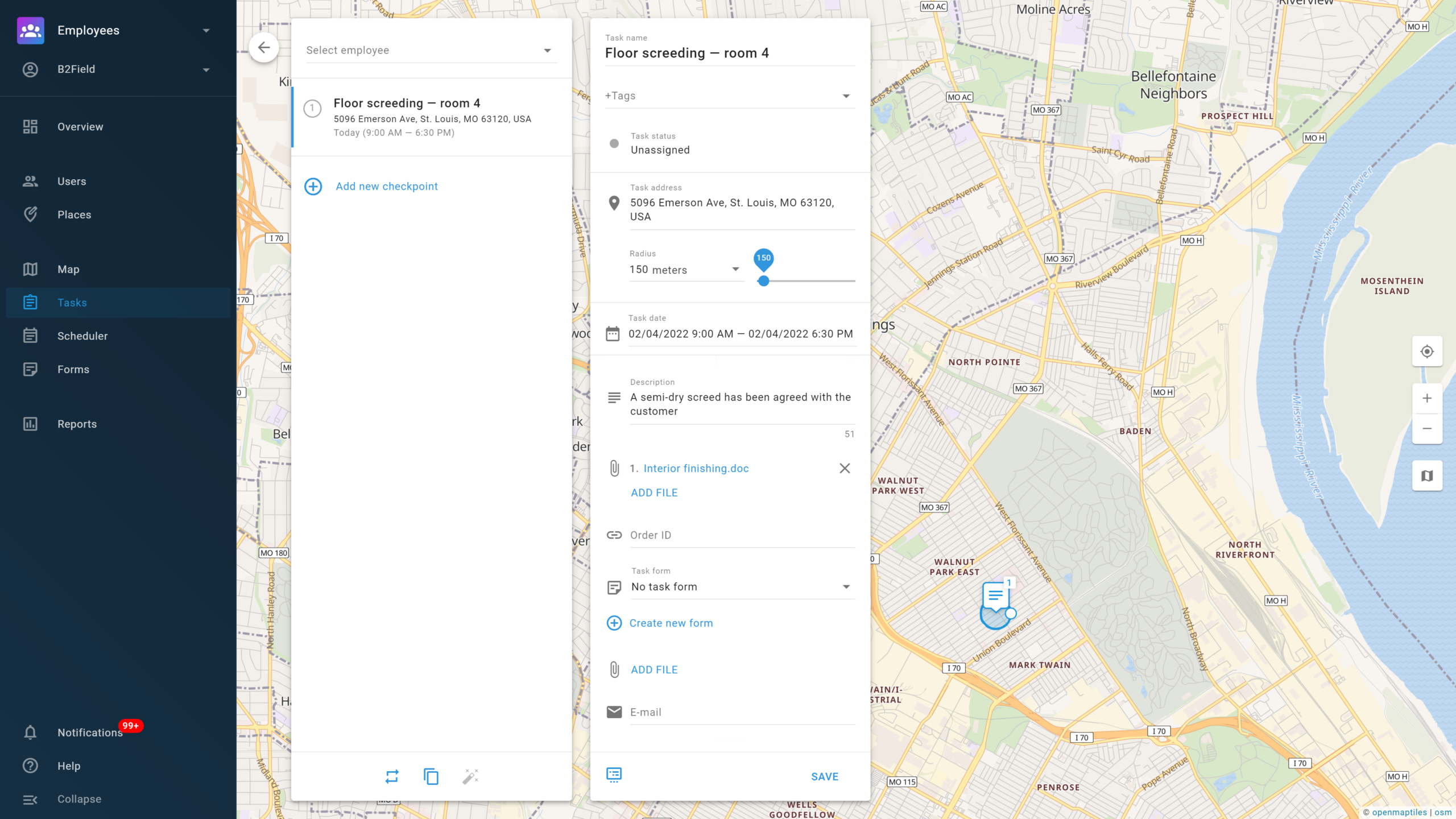 Monitor the task status in your account: in progress, completed, overdue, or not completed. With a staff of over 10 people, such an approach will save you a lot of time.
Location and work hours tracking
Location tracking in B2Field is possible thanks to a built-in GPS tracker. It records the employee's movements throughout the day, so you can see where they are on an online map at all times.
To track staff location on site, you can create a geofence. It can be the territory of a construction site or particular facilities within it. With this tool you will know what time the employee arrived at work and went home, or how many times and when exactly they left the premises.  In the service web interface, you will receive immediate pop-up notifications of their whereabouts.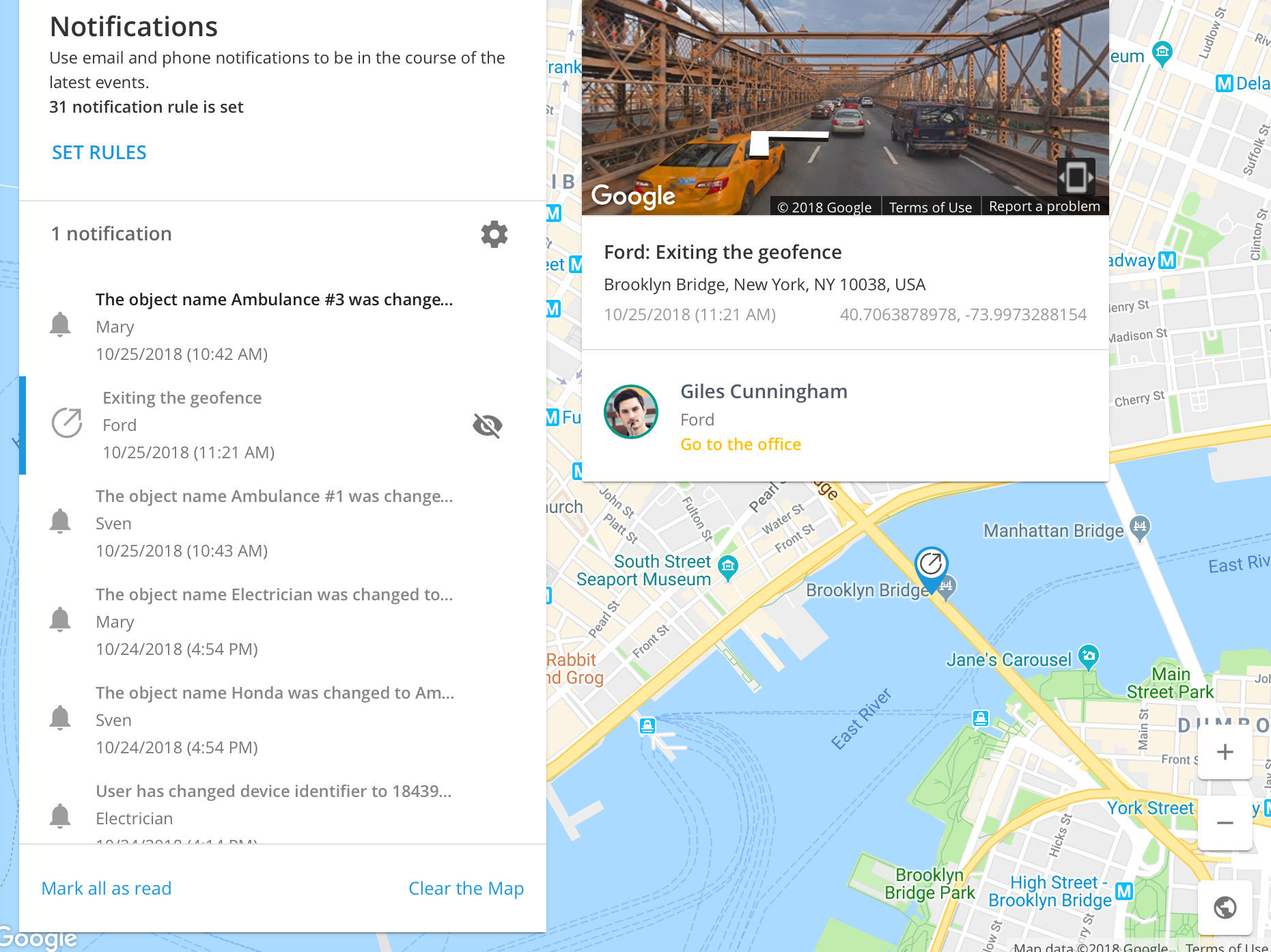 Along with notifications, the information is also reflected in reports, which you can customize to your needs by selecting a time interval, monitoring period, and employees — some workers in particular, a team or the entire staff. It only takes a few seconds to generate a report, and you'll know right away how the work schedule is being observed.
Reliable reports
Use mobile forms to get reports on the work done in B2Field service. This is a tool that you can tailor to fit your tasks. Your mobile forms may feature text and numeric fields, images and videos, as well as dates and signatures. By creating different forms for each type of task you will save your employees time filling out reports and your own time that you spend checking the results.
For example, a mobile form could be used for reporting on repairing public spaces, installing windows or wiring. How exactly you break down the tasks comes down to your convenience alone.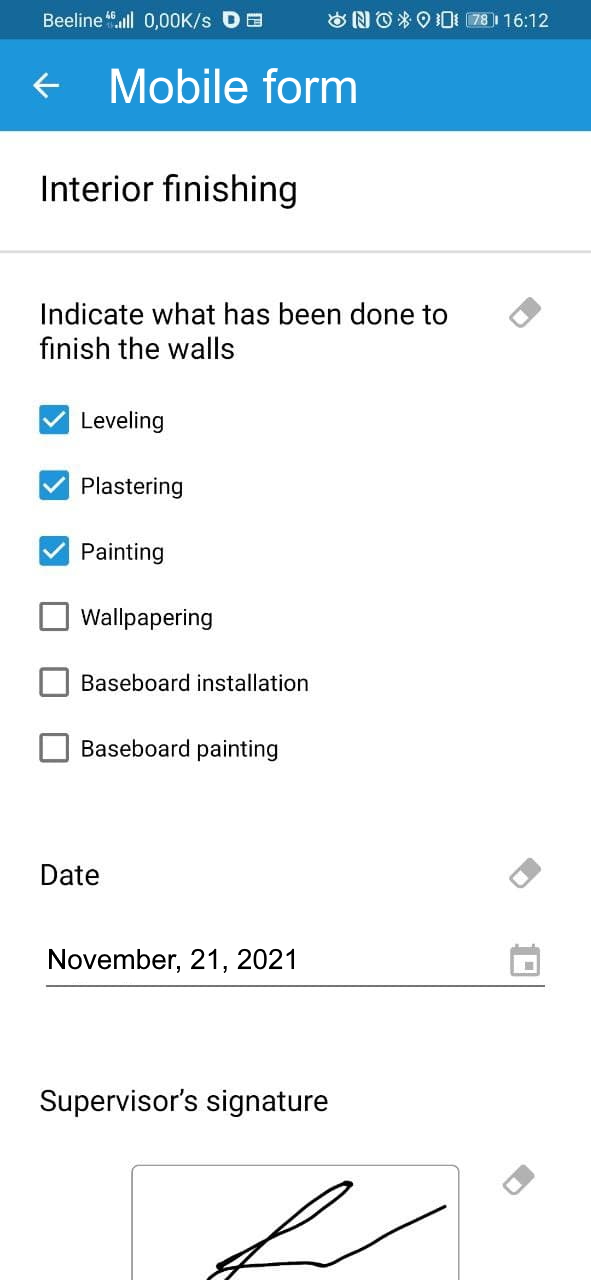 Using the mobile form, the employee will report on task completion, confirming the result with photos. Back at the office, you will be able to see the time the job was performed and verify the quality.
The best thing about mobile forms is that you have access to the job completion report anytime, and B2Field automatically records the time the worker submitted the form, which means you will know for sure if they met the deadline.
Start using B2Field service today
The B2Field solution is not limited to the features we've covered today. You can create numerous reports on a variety of parameters, track your fleet's fuel consumption, and much more. Sign up for B2Field and start using our program to try out all the features available.