Supervision and monitoring of promoters is a task for a BTL agency, which can now be automated in a special program. This will minimize the need for supervisors to one or two people and increase control over the staff performance. Find out how you can accomplish this in our article.
What you need to manage promoters
BTL agencies are responsible for the full cycle of work with promoters from searching for suitable candidates to reporting to the customer. An agency that organizes the promoters' work is generally tasked with the following:
Monitoring the presence of an employee at a given location and the duration of hours worked.
Assigning promoters to fulfill clients' requests and setting tasks.
Providing promoters with the necessary POP materials, catalogs, and scripts.
Making reports for the customers.
A specialized service for working in the fields will help simplify these business processes. It will allow for more automated and remote monitoring of promoters' performance and will require much less effort from supervisors. In this article, we will share with you how B2Field, a complex solution with a web account and a mobile application, will solve each of these tasks.
GPS location tracking of promoters
Generally, promoters are assigned to specific areas, where their work is monitored by supervisors. But when a supervisor is absent, it is difficult to check what employees are up to and how they adhere to their work schedule. In order to improve discipline, be sure to use location tracking tools. And B2Field features several of them:
Online location tracking.
Travel history.
Geofence control.
Let's have a closer look at the last feature since it is most useful when it comes to monitoring promoters. A geofence is an area of any shape or size that the supervisor outlines on the map in the software. Such geofence can be a section of a street, an area around a mall or a whole block.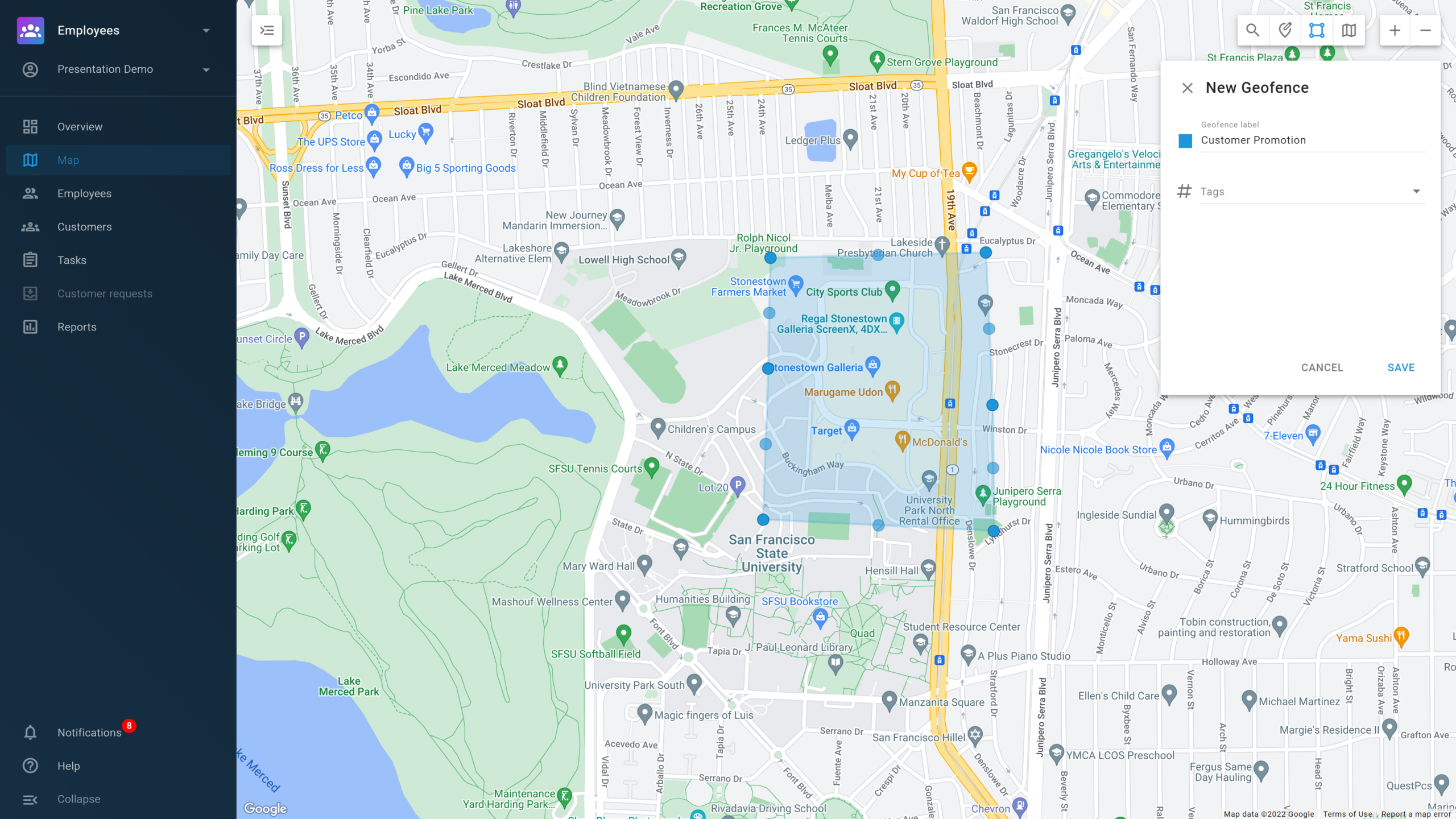 Thanks to the geofence feature, you can remotely monitor two parameters: first, the duration of stay in the designated area, and second, entry and exit to and from the area. This way the supervisor will know for sure what time the promoter clocked in and out. And the related data is recorded in the program automatically: promoters do not need to do anything else. The software sends out all the notifications associated with the geofence in real time, and you can view the travel history in reports.
Tasks scheduling for promoters
During a workday, promoters can visit several locations, implementing activities for the agency's various clients. To assign tasks with details on each activity remotely, use the task feature in B2Field.
Task assignment in B2Field is convenient both for supervisors and promoters. For the former, the main advantage will be a visual scheduler, which displays the specialists' workload and spare windows in their schedule. For promoters, it's the ability to have at their disposal all the data and documents necessary for work. For instance, a supervisor can attach questionnaires, scripts, electronic catalogs and presentations to the task. All these will be available to a promoter in the B2Field mobile app.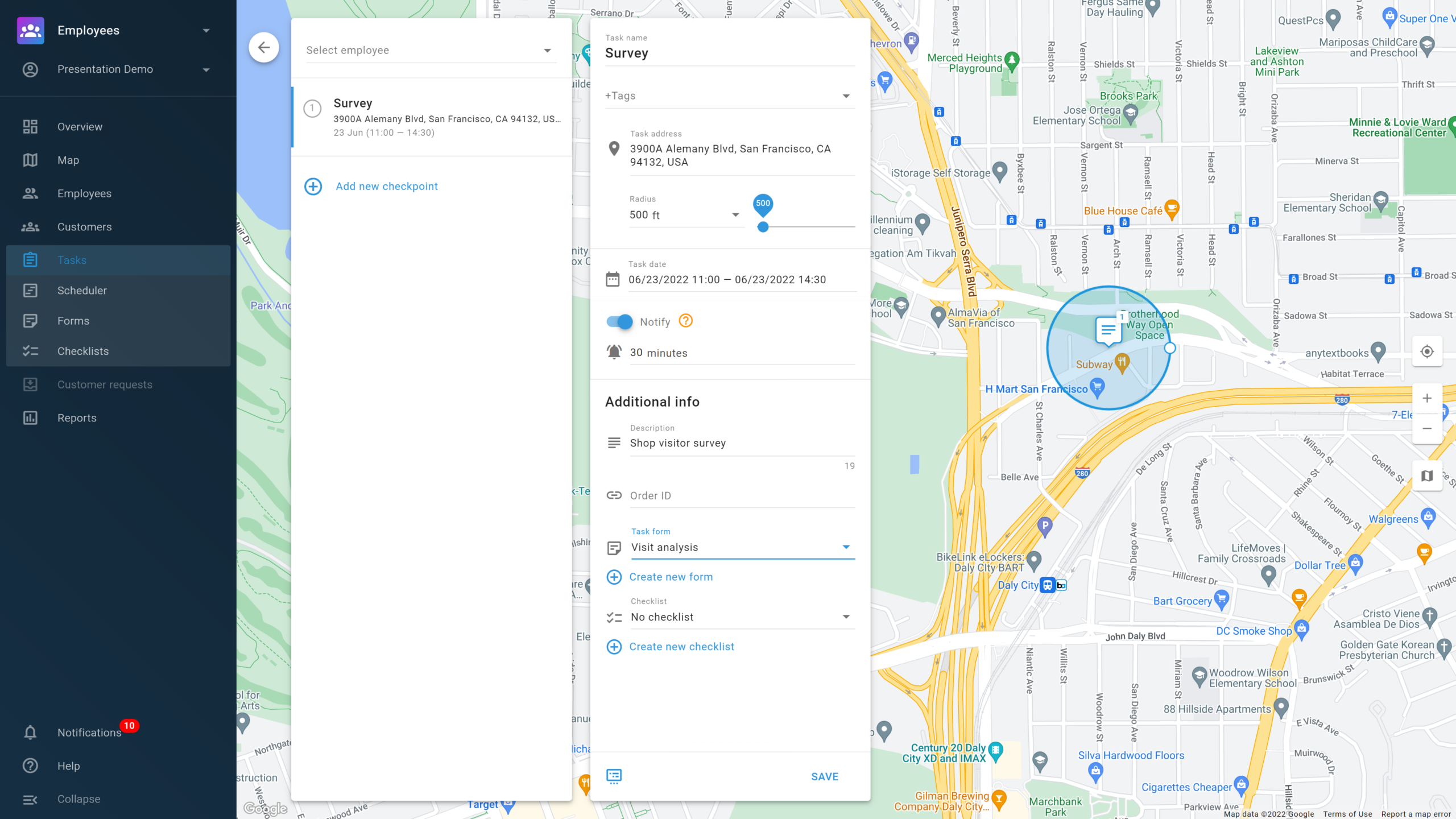 Additional materials in the promoter's app
One of the most common assignments a promoter is tasked with is conducting surveys. You can build such questionnaires and templates yourself in B2Field using mobile forms. They are perfect for collecting any data from the "fields".
Among the advantages of mobile forms is the ability to view the results immediately after they've been uploaded to the server and to email them. That way the customer of the marketing activity will automatically receive the data.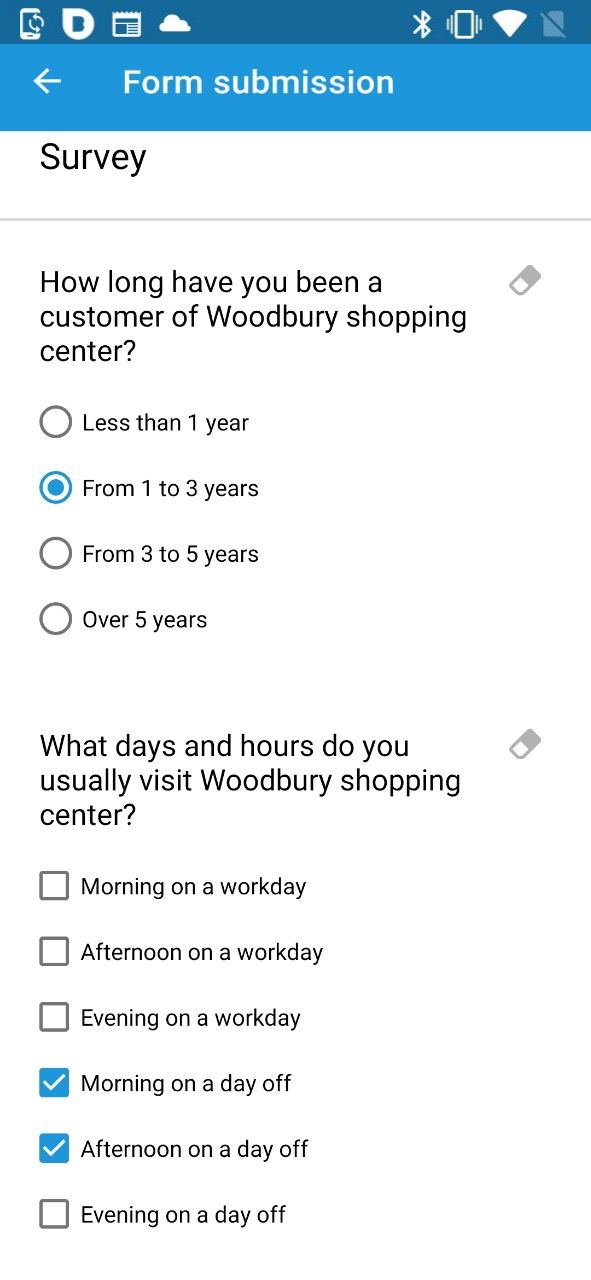 In addition, mobile forms are extremely flexible: if any item becomes irrelevant or if you need to expand the questionnaire, you can do so just in a few clicks.
Electronic reports on promoters' performance
Performance reports available in the B2Field program can be roughly divided into three types.
Tracking working hours (control within geofences): using these reports you can calculate the payroll and maintain discipline among employees remotely.
Reports from promoters: these are easy to make using mobile forms in the app. As a result, a supervisor will receive standardized data that is easy to analyze right away. In the mobile forms you can even share photos remotely if needed. However, one can only submit a report within the designated task area, which makes the information obtained much more reliable.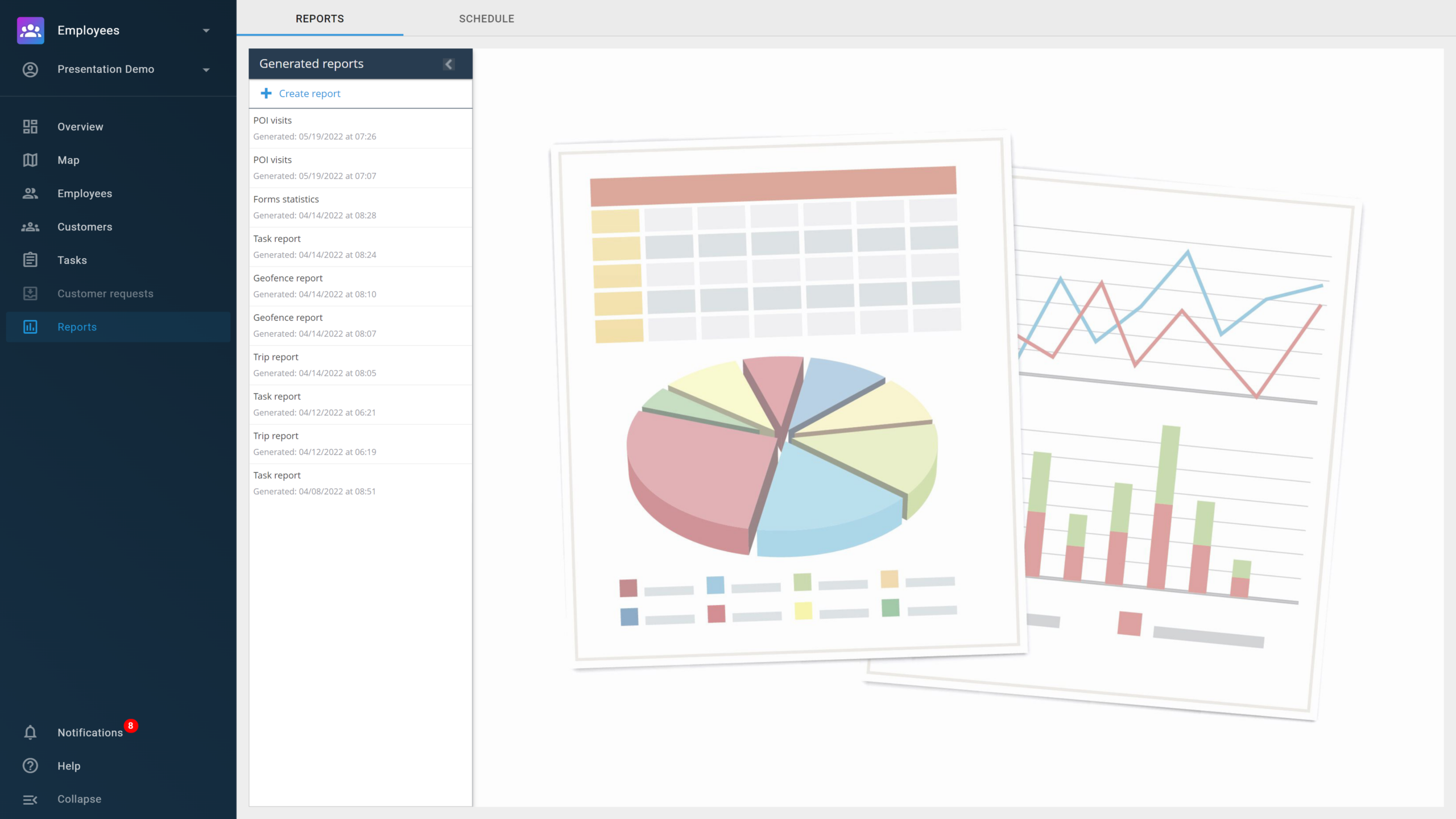 Performance reports on selected parameters. B2Field automatically records important data and then provides it in the form of reports upon request. Thanks to this feature a supervisor can easily see if a promoter was late for an assignment, statistics on the tasks completed and other details.
B2Field has your covered
B2Field is a software for desktop and smartphones that will help you increase control over your promoters and effortlessly monitor the key targets. With B2Field your supervisor will be able to manage more employees than ever before: one specialist alone could perfectly well handle monitoring the work of dozens of promoters.
Using a special system to track working hours will promote trust among your customers. You can also use reports to confirm the delivery of services to the customer.