We have already mentioned that there are two ways you can track your field staff's location: using a hardware tracker or a mobile application. However, a GPS tracking app is not only about monitoring employees' location but also about ensuring high-quality execution of tasks. Based on GPS data obtained, supervisors and field service business owners can analyze workflows and make reports more credible. Find out more in our article.
B2Field software: location tracking for reporting purposes
B2Field is a comprehensive application for monitoring and enhancing the performance of field and remote employees. To improve efficiency or identify potential points of growth, you as a manager may want to take a look at B2Field's analytical reports. They are based on GPS data and generated without input from specialists. This means that such reports will be as reliable as possible, for it's not uncommon for field employees to start work later than scheduled or mark the task as completed from home. We have already covered other challenges that field team managers face and how to solve them in our article.
Site visits
The report on site (POI) visits shows what locations an employee has visited over the selected period of time. The supervisor will learn the overall number of visits to each location, their duration, the time the specialist arrived on site, and the time the visit ended.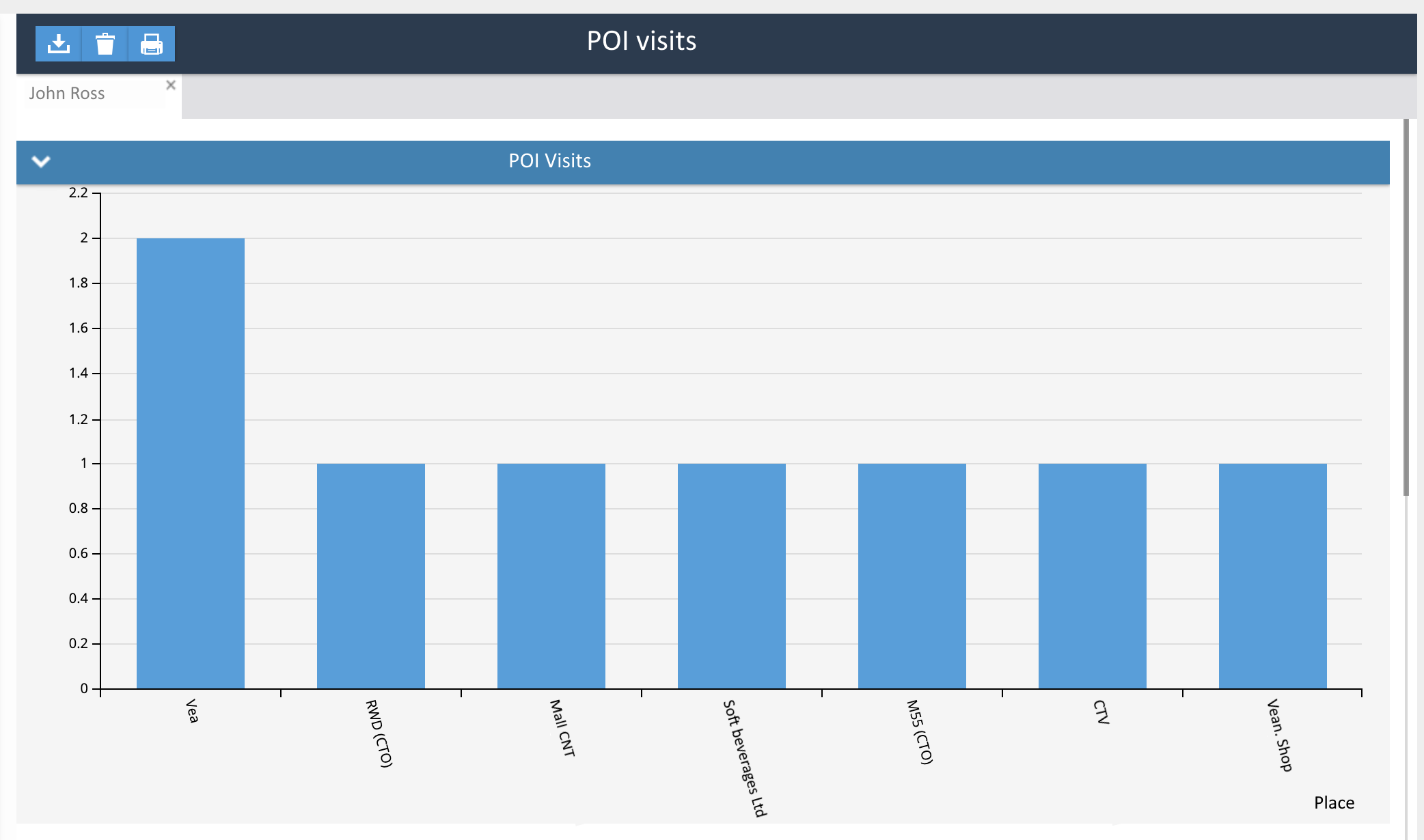 For your convenience, you can set a minimum visit duration and see only those visits that comply with the internal regulations. Besides, the report shows the overall mileage enabling managers to check if an employee took any personal trips in between the visits.
Geofence visits
The report on visiting geofences is similar to the previous one. Yet it is more suitable for supervising specialists at construction or industrial sites since the manager themselves outlines the territory to be tracked. You will learn from the report how long an employee has been within the geofence and what time they came and went.
And if you need to know how many times a specialist has left the geofence, our event report will come in handy, as it records all the entries and exits to and from the territory.
Stopovers
In the report on stopovers, you can see the number of stops and their duration, as well as the coordinates of the spot where your employee stopped. This will promote discipline among drivers and couriers and reduce the number of unscheduled stopovers.
Mileage
Trip reports are based on GPS data and LBS signals received. They contain details on the employee's movements throughout the working day, including mileage, number of trips taken, and travel time. In addition, trip reports calculate fuel consumption. Learn more about it in our article.
B2Field generates reports based on the selected parameters. You will be able to export data on your own, without involving any additional specialists. Reports can be viewed in the web interface or downloaded in a format of choice: PDF or XLS. Supervisors can also set up the reports to be emailed to them at a frequency they find most convenient.
Staff location tracking for high-quality task execution
All of the B2Field's key features are related to GPS tracking: not only does it help obtain reliable reports, but also boosts performance in the field. You will be able to control how well and where exactly employees complete the tasks and they, in turn, will do a better job thanks to the mobile tools available.
Task completion
A GPS tracker in an employee's phone will record the spot from which the employee was performing the task. If a specialist is outside the designated area for a particular task (you can select the radius yourself), they won't be able to mark it as done in the app.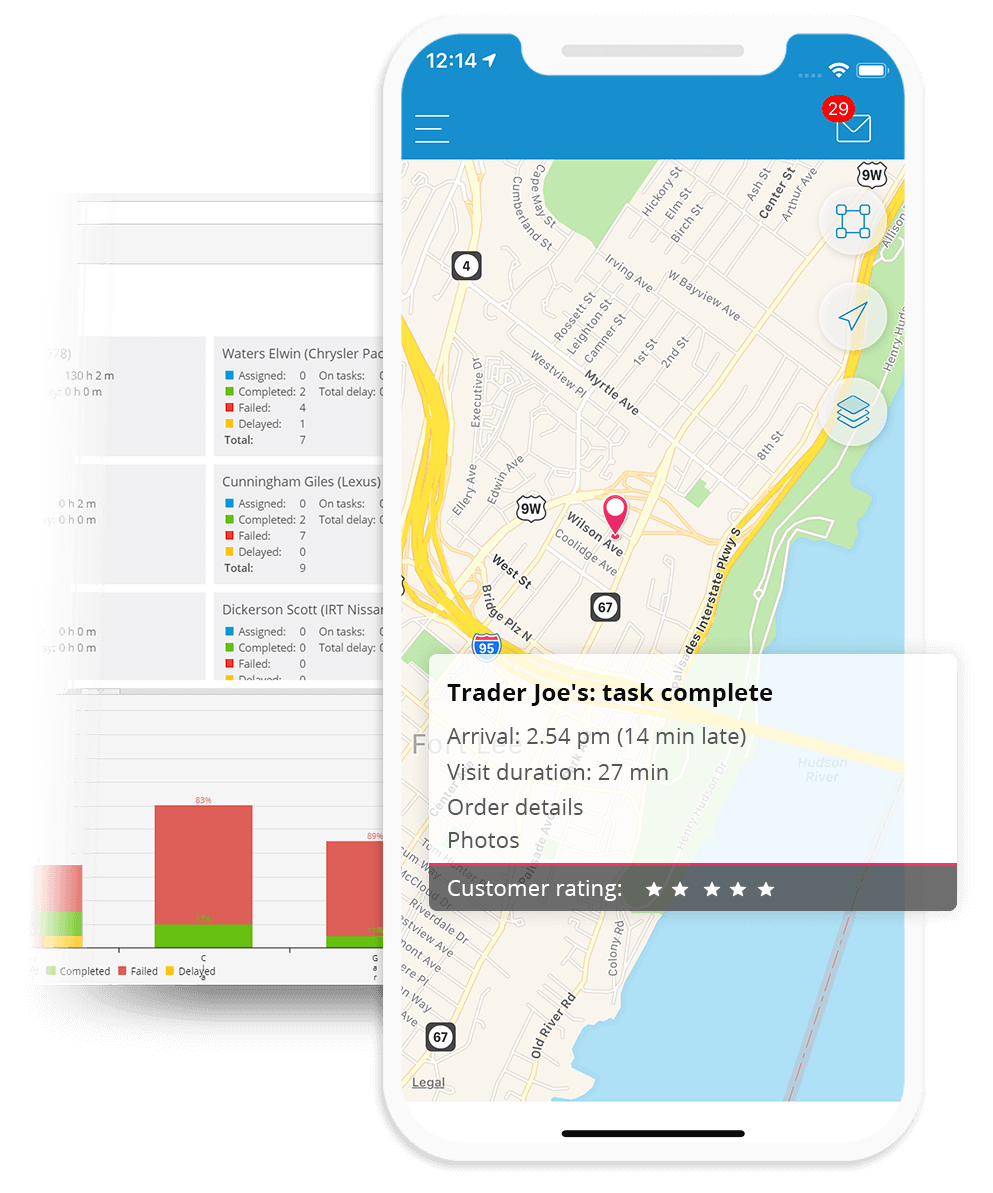 Once the performer completes the task its status in the app will change. You will see if the employee arrived on site on time and how much time they spent at that location.
Mobile forms
A mobile form is essentially a handy drag-and-drop feature you can use to create a tool for collecting information from the fields: report or order intake forms, and customer surveys. A field employee will enter all the necessary data, which will reach the office as soon as they hit submit. Same as with the tasks, you will be able to see where and when a mobile form was filled out.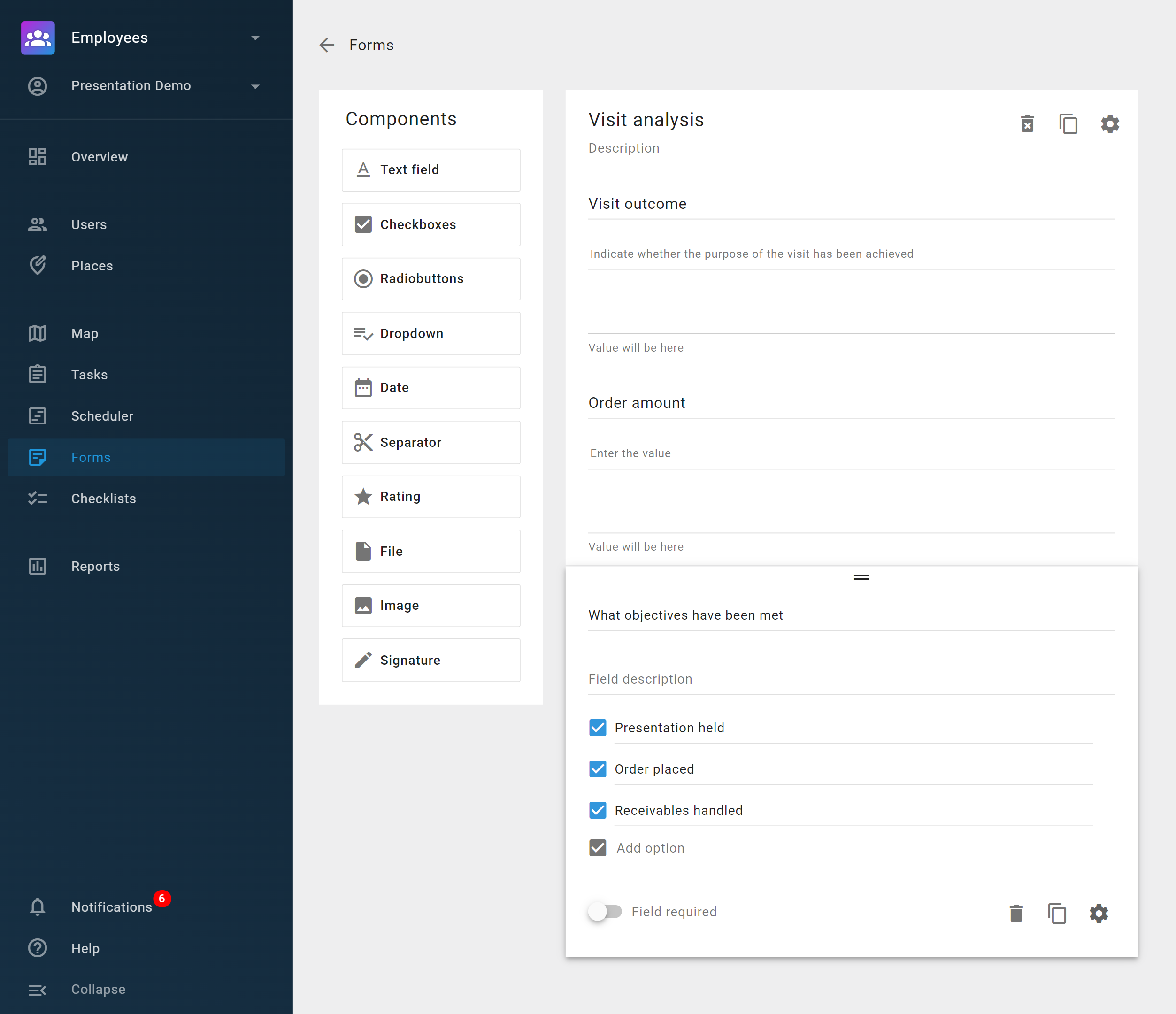 Field team management with B2Field
Mobile workforce location management provides important information about what is going on in the fields, including detailed online tracking. Detailed routes are available in the trip history feature, which will help reconstruct the entire workday of a field specialist.
In addition to GPS tracking, B2Field is of great help when managing a field team: you can use it to assign tasks, exchange documents and calculate operating costs. Check out the B2Field demo version to get a closer look at all the features the service has to offer.